A comprehensive guide to the many Louis Vuitton handbags and trunks on the market — including the most sought-after models
1
Louis Vuitton began his career in the 1830s as a maker of boxes
Louis Vuitton was born in 1821 in the mountain town of Anchay, in eastern France. At around age 13, he set off on foot to find his fortune in Paris. It was a journey of some 300 miles, and it took him more than two years.A limited-edition black rainbow monogram Malle Courrier 110 trunk with black hardware by Virgil Abloh, Louis Vuitton, 2019. 110 w x 48 h x 55 d cm. Estimate: HK$400,000-500,000. Offered in Handbags & Accessories on 27 November 2020 at Christie's in Hong Kong. Louis Vuitton handbags
Arriving in Paris at age 16, Vuitton became an apprentice to a box manufacturer. In his early 30s he designed a flat-topped trunk that could be stacked — a radical innovation, as hitherto trunks had featured curved lids. Hired as the personal box-maker and packer to Eugénie, Empress of France, Vuitton became the travel goods manufacturer of choice among the aristocracy.A painted monogram canvas Coffret Trésor 20 box with brass hardware, Louis Vuitton, 2020. 20 w x 11 h x 13 d cm. Estimate: HK$10,000-20,000. Offered in Handbags & Accessories on 27 November 2020 at Christie's in Hong Kong
Passed from father to son, Vuitton's business grew to include clothing, shoes, jewellery and, of course, handbags. Its iconic offerings have included the Keepall, released in 1930; the Noé bucket bag, from 1932; the Alma, from 1934; Stephen Sprouse's 2001 Graffiti bag; Takashi Murakami's 2003 Monogram Multicolore; the Neverfull tote, released in 2007; and the Capucines, from 2013. A rare, white monogram Graffiti Boîte Chapeau hat box PM by Stephen Sprouse, Louis Vuitton, 2001. 30 w x 28 h x 16 d cm. Sold for £8,125 on 11 June 2019 at Christie's in London
Loyal customers have ranged from the Duke and Duchess of Windsor to Kim Kardashian; design collaborators have included Marc Newson, Frank Gehry and Cindy Sherman. Louis Vuitton handbags
2
The bags don't just look good — they're designed to be highly practical
A limited-edition blue monogram PVC Keepall Bandoulière 50 by Virgil Abloh, Louis Vuitton, 2019
One of the reasons Louis Vuitton has so many followers is the house makes pieces that are highly functional. Thoughtful design and durable materials are the hallmarks of a Louis Vuitton bag. The Keepall, for example, is completely waterproof, while the Boreal briefcase in Taiga leather — made from smooth calfskin — is one of the most durable on the market.
3
Limited-edition show bags are highly sought after
A limited-edition Eye Love monogram canvas Eye Need You Sac Rabat by Takashi Murakami, Louis Vuitton, 2003. 31 w x 18 h x 9 d cm. Sold for £4,375 on 11 June 2019 at Christie's in London
Twice a year, Louis Vuitton releases a runway collection of handbags. Known as show bags, these pieces are produced in extremely limited quantities and only made available to VIP clients in the largest Vuitton stores worldwide. A limited-edition Iconoclast monogram canvas set of boxing gloves, mat and case by Karl Lagerfeld, Louis Vuitton, 2014. 47 w x 37 h x 14 d cm. Sold for £6,000 on 19 November 2019 at Christie's in London
Often more exaggerated and complicated than the collection pieces, show bags stand out for their intricate materials and craftsmanship. They are generally numbered and always marked with the season and collection for which they were produced. Perhaps the most important of these is the 2001 Graffiti, followed by the 2003 Multicolore.
4
In 1997 Marc Jacobs became Louis Vuitton's creative director — and breathed new life into the brand
A limited-edition green Tuffetage monogram wallet trunk with green hardware by Virgil Abloh, Louis Vuitton, 2020. 23 w x 13.5 h x 6 d cm. Estimate: HK$45,000-60,000. Offered in Handbags & Accessories on 27 November 2020 at Christie's in Hong Kong
A brand's artistic director can also steer its identity. Marc Jacobs, one of the architects of the collectable runway handbag market, arrived at Louis Vuitton in 1997 and transformed the storied luggage brand into the blockbuster fashion house it is today.
Jacobs introduced the brand's first-ever ready-to-wear collection and also launched collaborations with the likes of fashion designer Stephen Sprouse and artist Yayoi Kusama. While staying true to Louis Vuitton's heritage, he reinvigorated the brand for a younger generation — and Virgil Abloh, the hugely influential artistic director of Louis Vuitton menswear since 2018, continues to appeal to this demographic.
5
Collaborations with artists have resulted in groundbreaking pieces
A limited-edition Iconoclast monogram canvas twisted box with gold hardware by Frank Ghery, Louis Vuitton, 2015. 19.5 w x 11 h x 12 d cm. Sold for £6,000 on 25 June 2020, Online
Louis Vuitton's collaborations with contemporary artists have included projects with Takashi Murakami in 2003 and 2008, and Richard Prince in 2007, who created paint-splattered bags adorned with quotations. In 2013, Louis Vuitton's menswear designer Kim Jones enlisted Jake and Dinos Chapman to develop a capsule collection known as the 'Garden in Hell'. Louis Vuitton handbags
6
Louis Vuitton is not afraid to take risks
A custom monogram Malle Courrier Lozine 100 trunk with capucine lining and brass hardware, Louis Vuitton, 2010s. 100 w x 48 h x 53 d cm. Estimate: HK$80,000-100,000. Offered in Handbags & Accessories on 27 November 2020 at Christie's in Hong Kong
Louis Vuitton constantly reinvents classic models and looks to the brand's archive for inspiration. Some models have been produced for more than 100 years, while new styles incorporate traditional models and motifs to show the evolution of the brand. The Trunk clutch is a miniaturised version of the piece that first made Monsieur Vuitton a household name.
As technology and social media have amplified Vuitton's reach, the lines between art, fashion and street culture have become blurred. The trunkmaker for European aristocracy now collaborates with the hip skateboard brand Supreme, a mainstay of New York City streetwear and one of the most coveted brands in the world. -Louis Vuitton handbags-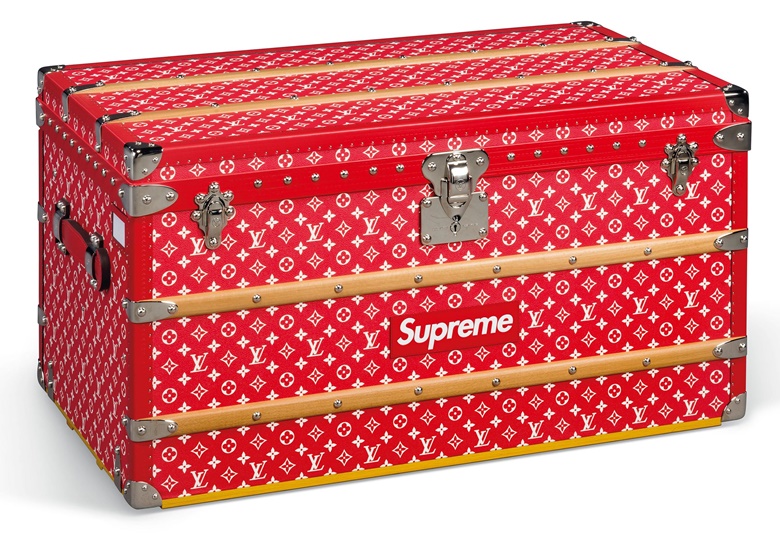 A limited-edition red and white monogram Malle Courrier 90 trunk with silver hardware by Supreme, Louis Vuitton x Supreme, 2019
The latest Supreme x Louis Vuitton trunk is the perfect blend of New York street style and French savoir faire. Louis Vuitton first partnered with Supreme in 2017 and dropped their collection in a few selected pop-up shops. The stock sold out faster than expected and a number of the pop-up shops had to close early.-Louis Vuitton handbags-
7
Pieces made from crocodile, alligator, ostrich and snakeskin represent the pinnacle of the collector market
A matte black alligator and shiny blue lizard egg bag with gold hardware, Louis Vuitton, 2019. 21 w x 21 h x 12 d cm. Sold for £5,625 on 25 June 2020, Online
Crafted in limited quantities from the finest materials and finished in rich, deep colours, Louis Vuitton Exotics are rarely seen on the auction market. These crocodile, alligator, ostrich and snakeskin pieces represent the pinnacle of the Louis Vuitton collector market. The shine on a crocodile bag — such as the example shown above — surpasses anything that can be crafted in leather.
8
Travel items remain bestsellers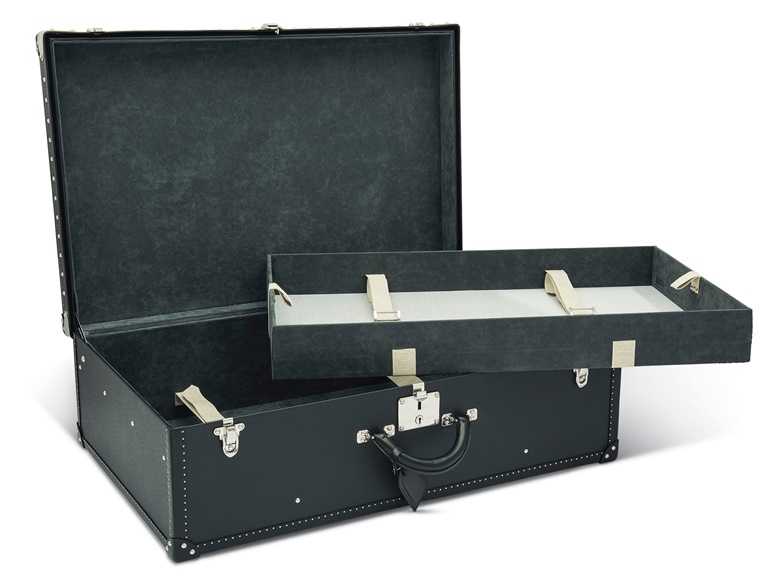 A set of three: a black Taiga leather Alzer 70; an Alzer 80 and a shoe trunk with silver hardware, Louis Vuitton, 2010s
The brand boasts one of the world's most exceptional collections of antique trunks. Some sleep in attics, others are in museums, others are still travelling and many are displayed in Louis Vuitton stores around the world. While trunks might not have the same use today as in the past, they still make a stylish accessory and highlight the traditional skills and excellence that remain as relevant today. Travel items such as the Keepall travel bag and the Pégase suitcase remain some of Vuitton's best-selling pieces.
9
Explorer trunks fetch record-breaking prices at Christie's
A rare, zinc Explorer trunk, Louis Vuitton, 1886. 86 w x 47 h x 49 d cm. Estimate: HK$300,000-400,000. Offered in Handbags & Accessories on 27 November 2020 at Christie's in Hong Kong
The 19th century belonged to explorers and adventurers, who needed luggage that would safeguard their most precious possessions. To this end, Louis Vuitton created the Explorer collection, featuring pieces in hard-wearing zinc, copper, aluminium and brass. A rare, aluminium-bound Explorer trunk sold at Christie's in London in 2018 for £162,500 — a record-breaking price.-Louis Vuitton handbags-
10
Louis Vuitton offers select clients a custom service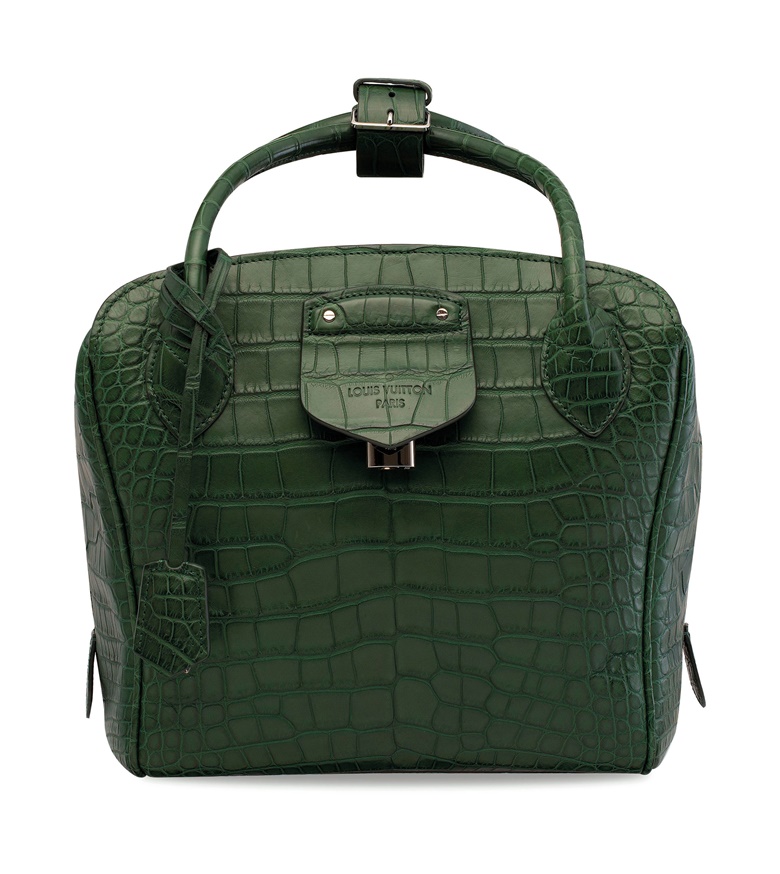 A custom matte dark green niloticus crocodile Haute Maroquinerie Milaris GM with silver hardware, Louis Vuitton, 2000s. 28 w x 24.5 h x 17.5 d cm
A few years ago, Louis Vuitton introduced the Haute Maroquinerie service. This offers the brand's top clients the opportunity to design their own bag based on preselected shapes, leathers and colours. Customers are invited into special design rooms to create the bag almost entirely to their specifications.-Louis Vuitton handbags-